Early dance memories (Sweden)
Mälarsalen Dance Programme 1980
When I began to dance, I believe Sundbybergs Folkets Hus, Mälarsalen, Örjans­ringens dances at Alvik and Skansen were the places I frequently visited.
Mälarsalen had around 1980 a very extensive dance programme, with frequent dance events containing a lot of gammaldans and also polskor.
When Björknäspaviljongen was destroyed by a fire, the range was for some time even more extensive.
The dance programme below shows the dance programme for the spring term 1980 (after the fire).
---
Boot Dance at Skansen 1983
Feb 6, 1983
At a winter weekend 1983 we found in the newspaper that Skansen arranged outdoors dance at Skansen. This was unique for us, we had not visited an outdoor dance in winter earlier.
It was not many that had noticed the event, so we were almost alone at the dance floor.
Dance friends took this picture when Ellika and I danced Pariserpolka.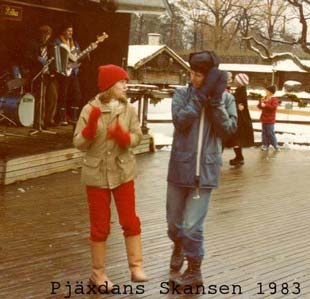 ---
Wanted
If you have own pictures or other materials from dance events from the beginning of 1980 or earlier, that you think is appropriate for this site?
If you would like to publish that on this site, please send a note on e-mail. I am especially interested of gammaldans and polskor from around 1985 and earlier, but also other dancing pictures will be appreciated.
---