Dances in Sweden 2007 - 2008
The dance reports were moved to the blog at dansglad.se from year 2009. The blog is however available in Swedish only. For more extensive dance reports with video clips, this page might eventually be used in the future as well.
---
Summer Dances at Gröna Lund and Skansen
When Gröna Lund resumed their dance activities a couple of years ago, they did it properly. The dance programme is extensive, and the price is very attractive.
And for those who still want more, Skansen is nearby.
---
Bjuråkerstämman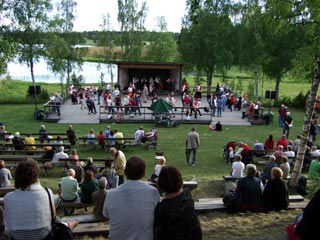 This summer as well as the previous, we passed Hälsingland during our holidays. This time our visit coincided with the folk musician's rally at the Bjuråker Forngård.
---
Dance at Globen with BAO
The Benny Andersson Orchestra (BAO) with Helen Sjöholm and Tommy Körberg, arranged a dance event at Globen in Stockholm, October 2007.
The previous BAO events at Skansen had so many visitors that the dance floor was crowded, with very limited space for dancers.
But the much larger Globen Arena should provide space enough for both the listening audience and the dancers?
---
The Haninge Folk Music & Dance Event
As a gleam of light in the December darkness, this year there was a folk music & dance event at Quality Hotel Winn in Handen.
---