Dances 2001
Trollrike spelmän with Bygdedansens Vänner
Jan 13, 2001
Bygdedansens Vänner arranged a very nice dance evening with Trollrike Spelmän at Bagarmossens Folkets Hus. When Trollrike started with a hambo the the wish to dance was felt in the body, and the feeling remained all evening.
Trollrike plays mostly gammaldans and bondpolskor, that also are suitable for hambo dance. During the evening there was also a few slängpolska and bingsjöpolska.
As always when Trollrike are playing we felt cheerful and happy, and obviously this was just as true for us dancers as for the musicians.
As there were rather many visitors this evening, we were also rather many who when going home shared a feeling of having had a very enjoyable dance evening.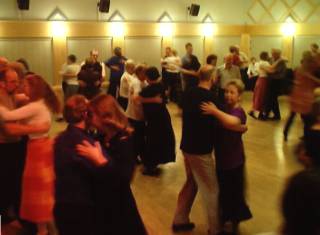 ---
The Winter Dance Event in Kallhäll
Jan 27, 2001
On our way to the wardrobe, dust and warm air met us When we arrived to the dance floor there was a dance instruction, possibly Hurv from Särna? We waited until this was finished, and then began our dance to Järfälla Nyckeharpsgille. They played very nice. It was then also less crowded, but the heat and moist remained. The floor was as the previous year very nice.
We got the impression that it was more polskor this year compared with the previous. Especially we remember from this year as from the previous Wallmans Polskekvartett, who always seem to play all types of polskor with the right pace and character.
At our usual round trip in the house we found musicians in every corner, no matter how small. Occasionally it was also possible to find some space to dance. For example it was very fun to dance a Lindy Hop and jive when one of these groups were playing.
When Wärmdö Durspelare played it was crowded on the dance floor. Despite this one of all these spontaneous variants suddenly appeared, this time in a schottishe. Normally it would be forgotten the next day, but may be it will be easier to remember it by documenting it on the site. Let us call it the Kallhäll variant or Roll off the Neck.
---
Westlings Spelmän at Alvik
Feb 3, 2001
This day in February the winter had arrived at full force to Stockholm. On the dance floor I got a report about a temperature of 20 degrees (C) below zero in the morning in Sollentuna.
When the dance started at 7 with a delightful hambo in the rhythm that Westlings can play as no one else, it was just one single ring of dancers around the room.
But cold weather is obviously nothing that can stop visitors from attending when this orchestra is playing, after a few dances the floor was filled up. Hugo, Britt-Marie and Härje were in splendid shape, and I must say that I admire this group.
I remember that I at one occasion when Hugo was playing solo was thinking of how rich and nice his only fiddle sounded, and that he really is a musician out to his finger tips.
Others that I danced with also expressed their unreserved approval of this orchestra. As they usually do, they also played a few Boda- and Bingsjö-polskor, and especially the Bingsjö-polskor were one of the highlights from this evening.
When the dance is so delightful it is not fun to interrupt for taking photos. The first picture shows three fellows from ARN at the coffee break. The dancing picture is from the Västgötapolska in the pause.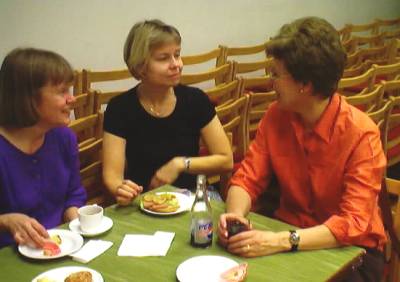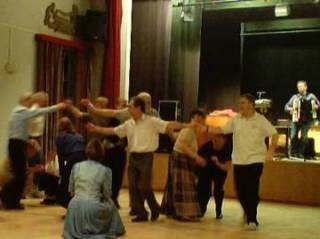 ---
Winter Folk Music Festival at Hallunda
Feb 10, 2001
The winter dance event arranged by Slagsta Gille at Hallunda Folkets Hus usually gives splendid opportunities for dance. And so was the case this year. It is tiring to go with underground from the city, but in return it gives possibilities to dance in one of the best dancing halls in Stockholm. On the folk musicians' rally it was as in previous years mostly gammaldans in the light, airy main hall, and in parallel polskor in another nice ball room.
When we arrived the dance to Sandvikens Spelmanslag had already begun. This group was both youth and enthusiastic.
As there was dance on two floors at the same time, it was not possible to follow all the activities.
We spent most time in the main hall, where among others Wermdö Durspelare provided delightful dance music. In the polske room we danced some smooth polskor to excellent music by Anders Hage. Probably he had composed most of the music himself, and he played very nicely. We finished this nice round by dancing segla to one of his polskor.
The large dance floor gave excellent possibilities for active dance, something that was a great drain on our vigour. When we danced our last dance just before the end of the event, a waltz to Slagsta Gilles Spelmanslag, our legs felt like well boiled macaronis.
---
Accordion Club at Nalen
Feb 12, 2001
An accordion club playing jazz at Nalen on a Monday - is that a dance event worth visiting? That we were thinking of when we were walking towards Nalen. We were there just before 7, and were pleased to see that was there was almost no queue outside. But when going inside we were to our great surprise told that all tickets had already been sold. But we were lucky, they managed to fix a few more places, and we were let in.
The dance hall was filled with chairs, and there were only very few free. Our guess is that it was about 500 in the audience. Our impression was that many of the visitors were playing accordion themselves, and we found that some of the old accordion kings, as Erik Frank, were present.
The concert was with music of all kinds, as Latin American, ballads, tango, jazz, waltzes etc..
After the concert there was a pause before one and a half hour with dance. The dance music was mostly foxtrot and jazz music, but also a few waltzes and tangos. It was only during the last 30 minutes of the dance there was some some space allowing for more active dancing and some jitterbug.
This dance evening was a new and different experience.
---
Stockholm´s and Orsa Spelmanslag at Musikmuseet
Feb 17, 2001
This evening was one of the best dances with polska for us for a rather long time. With great pleasure we could once again dance to Orsa Spelmanslag, that were visiting Stockholm and played, alternating with Stockholms Spelmanslag.
Orsa Spelmanslag were both numerous and youth, despite this we recognised several musicians that we have danced to during previous years.
The two groups alternated, playing one hour each, except during the last twenty minutes when both groups played together. Orsa Spelmanslag played during the first hour, and did that excellently. They started with waltz, and played then perhaps one third to one fourth gammaldans, and the remainder polskor, mainly from Orsa. Whatever this group is playing, it is wonderful to dance to them.
When Stockholms Spelmanslag then entered the scene, I guess they must have felt that their guests had played very well. Stockholms Spelmanslag play to a big extent the same music that Orsa Spelmanslag have been born with, and it could not be the easiest task to take over after them. It was noticeable that the sound was different. Stockholms Spelmanslag have in the treble timbre from tenor recorder and clarinet while Orsa Spelmanslag have rich bass sound from double-bass and guitar.
From the dance later in the evening I do remember the wonderful feeling from weighing back and forth in Orsapolska, and also a comment from Ellika when dancing Bodapolska, that she felt as she was flying.
The dance was well attended and the musicians got a volley of applause after the last Orsapolska.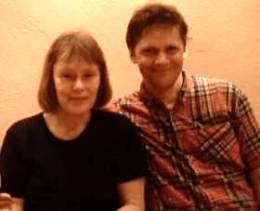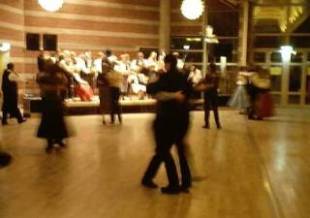 ---
Dance at Nalen
Mar 4, 2001
For the first time since the event 'Omåttlig Dans' moved to Nalen, we visited their event 'Dansfestmix'. This time Salsa and Lindy Hop were mixed together. During this weekend the Stockholm Lindy Exchange was taking place, and many dancers from this event participated in the dance.
When we arrived we were met in the entrance by something we first thought was a dance shoe exhibition. We however found out that the shoes were examples of hand made dance shoes that could be directly ordered to the present manufacturer.
We danced only in the big ball room, where Lindy was played. When the dance opened there was plenty of space. After a while it became however more tight, but it was possible to dance all the time. As Lindy Hop is danced more or less on the same place, it was almost impossible to dance foxtrot. The music itself had otherwise also been suitable for foxtrot.
Compared with many other dances the visitors were younger. As we did not dance salsa in Harlem, we did not come in contact with that dance. We felt that this reduced the feeling of that different dancers and dances were mixed. When we at one occasion passed Harlem my impression was, as also has been the case earlier, that the sound volume of the salsa music has higher volume than my ear drums appreciate.
During the evening there was also a dance show in the ball room. Two girls were giving a brilliant show, later they also performed some tap from the scene.
It was fun to once again going out jazzing on a Sunday evening at Nalen. Not least the presence of dancers from other countries made the dance a memory out of the ordinary.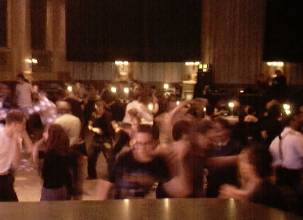 ---
Boda Spelmanslag at Bagarmossen
Mar 17, 2001
Stockholmia arranges once per season dance with a spelmanslag.
Usually Boda spelmanslag plays at the spring event, and Svärdsjö spelmanslag in the autumn. Boda spelmanslag of course plays Bodapolska, but also gammaldans and Bingsjöpolska.
This was an inspiring evening with many Bodapolskor. The dance was well attended, but still with room enough to dance. After some dancing it became quite warm. The dance was ended on overtime with Långdans from Sollerön.
---
Hasse Svedbergs at Alvik
Apr 12, 2001
On Maundy Thursday Hasse Svedbergs have been playing on Örjansringen's dances for some years. This year the weather forecast for the Easter contained cold weather, with winds from north east and bringing some snow. This did not put off visitors from going, after some dances the floor was almost filled up, and despite some open windows we got pretty warm.
Hasse Svedbergs mostly like as much to play modern music as gammaldans. The previously blue fiddle has now been replaced by an electric violin. As usually the dances contained mostly gammaldans, but after the pause there were a few dances with foxtrot and tango.
In the pause there was as always dance singing games, and a folk dance - this time Västgötapolska. The latter got a little messy in our formation, but this does not make the dance less fun.
In the following family waltz and family schottishe the dancers did almost not fit into one ring around the dance hall.
This was a very nice dance evening, not least because Hasse Svedberg always seems to be so fond of playing for his dancing public.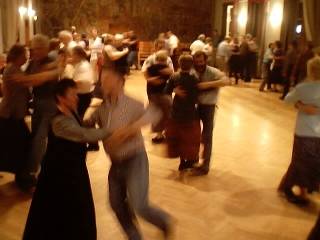 ---
Tuesday Dance at Hallunda
Apr 23, 2001
Tonix and Slagsta Gille were playing at the Tuesday dance in Hallunda. During the first half of the evening there was only modern dance with Tonix. It lasted until the first pause, when Slagsta Gille started playing.
Despite the large dance floor it was a little too tight during the modern dance. When Slagsta Gille played it was more space.
Unfortunately the sound arrangements were not good enough to fully reproduce the music from the folk musicians.
When we left the dance at 10 pm we got the impression that Slagsta Gille were preparing to play again.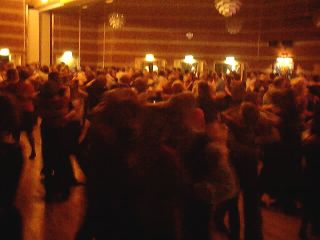 ---
Slagsta Gille and Jontez at Mälarsalen
Apr 29, 2001
On the last mixed dance for the season at Mälarsalen, Slagsta Gille and Jontez Dansband were playing. The sun was still far above horizon and shining on the dance floor when the dance opened at 5 pm. Possibly some dancers were still enjoying the light spring evening in their summer houses, but all those that came to dance got an excellent dancing evening.
Both Slagsta Gille and Jontez played very well. Despite many visits to the water tap the thirst made me loosing power after more than four hours of continuous dancing.
---
Walpurgis Eve at Skansen
Apr 30, 2001
It was now quite some time since the text in song "Vintern Ra" - the ice flowers in the drift melt down and die - hade any actuality in the Stockholm region. This seems however not to reduce the interest for celebrating Walpurgis Eve. When we arrived to Skansen, we were met by the longest queues I ever seen here - several parallel queues, more than 50 meters? We bypassed them by using the car entrance where the queues were more normal.
Looking Back Band played dance music at Galejan from 20:30. We danced from start, and we were the only pair on the dance floor at that time. Other visitors were probably looking at the fire and listening to choir song, or may be they were still in the queues at the entrance. After a few dances some other dancers did however arrive.
After about half an hour the situation was quite different - it was plenty of people of all ages, dancing and expressing much joy. Some danced solo, but it was very mixed dance, both dancing style and ages, and both young and elder mixed couple dancing and solo dancing. My impression was that many visitors had not planned to dance, just passed and took the chance to have some fun.
The orchestra played non stop until 11 pm, with music from 60's and 70's. The enthusiasm from the audience was obvious.
---
Slagsta Gille at Skansen
Jun 12, 2001
The first gammaldans at Skansen for the season was with music from Slagsta Gille, in excellent weather. The dancing floor seemed to be a little damaged after the winter. On the other hand it always takes some time to adopt to the floors of the outdoors dancing places - e.g. by moving the shoes so they can slip over edges.
The problems were not too big, and the dance was nice. It was the first dance for some time for me, as I and many in my surroundings had suffered from colds this spring.
---
Pictures from some of the summer dances
Galejan - Gideons
Jun 26, 2001
Bollnästorget - Nordins three generations
Jun 28, 2001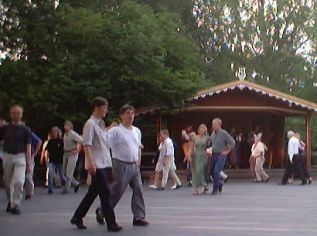 Jontez at Håbelby
Aug 14, 2001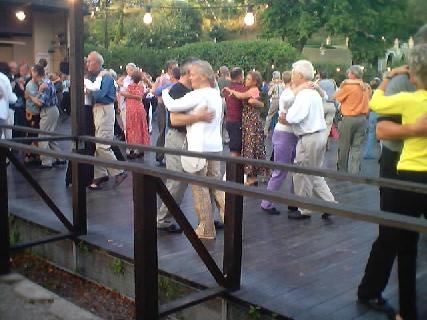 Finnish tango at Stadsmuséet
Aug 16, 2001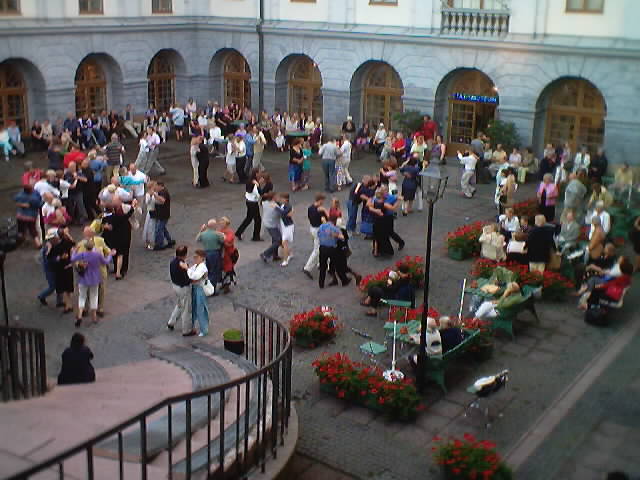 Hasselbacken and Kungsträdgården
Aug 22, 2001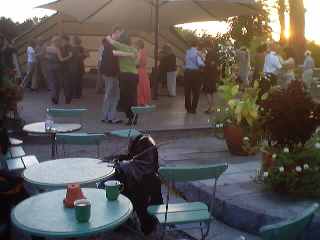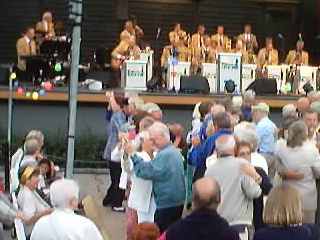 ---
Trollrike Spelmän and Wermdö Durspelare
Sep 15, 2001
Sadly the summer was now gone, and with that the dances at the outdoor dancing places. We got a nice start of the indoors season when visiting Värmdö Bygdegård at Hemmesta, to the tunes from Trollrike Spelmän and Wermdö Durspelare.
This evening the glide on the floor was prepared from start. Both the orchestras were cheerful, and it was a very nice dance evening. I was somewhat limited by a cold that had not quite left, but that gave some time for cooling and drinking water.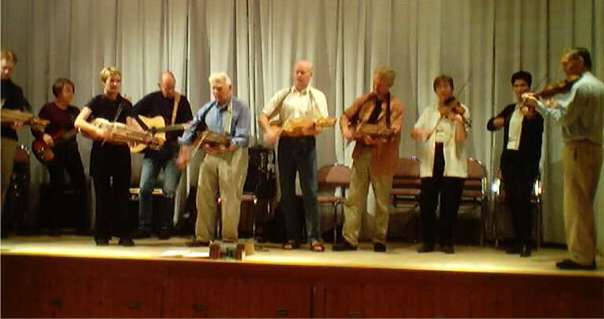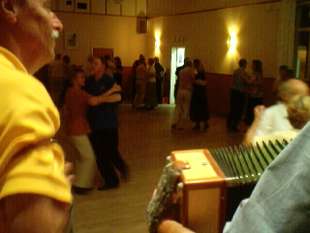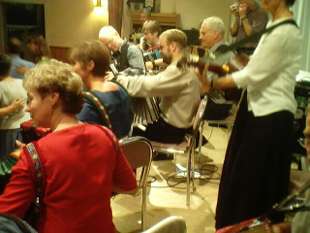 ---
Gammaldans at Stallet
Sep 21, 2001
Stallet has been arranging dance for quite some time, but for us this was the first visit there. Anders Larsson and Gunnar Persson opened the event, partly together with one more accordionist, playing in the tradition of Jularbo.
Hjärp-Erik, who we often have seen in Boda Spelmanslag, continued. He played gammaldans and Bodapolskor.
Finally Mats Edén entered the scene with his melodeon. This was the first time we danced when he played. We were impressed by his powerful handling of the instrument.
We had previously heard that it was not much space for dance at Stallet. And the area was limited, but this evening only some of the visitors were dancing. For that reason there was enough with space, and the evening offered plenty of active dancing. We were however told that other evenings could be more crowded.
The evening gave a nice memory, and we feel that we can gladly visit this dancing place in the future.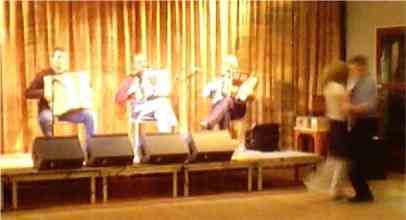 ---
<010922_rajraj>Raj-Raj playing at Örjansringen´s dance in Alvik010922_rajraj>
Sep 22, 2001
Due to a mistake another group was announced to play in Alvik. But Raj-Raj - a rather large group of folk musicians from Uppland - were those that actually were providing the music.
We have been dancing to this group before, and enjoyed this time as previously their music.
Eventually they nowadays play more polskor then previously, and this evening included besides gammaldans some bondpolskor and other polskor.
---
<010929_rotebro>Westlings at Rotebro Dansträff010929_rotebro>
Sep 29, 2001
Sollentuna GDF had this autumn arranged an extra dance on a Saturday, with Westlings Spelmän playing gammaldans. The price for the evening was low - just 70:- including coffee. The dance floor in Rotebro Dansträff was excellent, and Westlings - now as always - filled the visitors with enthusiasm.
The dance lasted for three hours, until 11 p.m., and that seemed not to be long enough to make the public tired.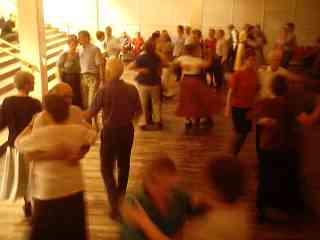 ---
Westlings in Alvik
Nov 3, 2001
All Saints´ Day this year was very mild, almost like September. Örjansringen arranged dance with Westlings spelmän.
It was a very enjoyable evening, with a smooth, slippery dance floor, good music and nice people to dance with.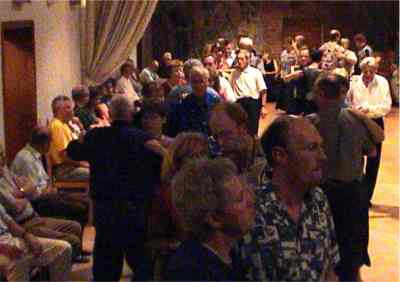 ---
<011208_splag>Stockholms spelmanslag at the Music museum011208_splag>
Dec 8, 2001
Eva Tjörnebo and Viskompaniet opened this event with a concert. Eva's captivating enthusiasm, backed up by capable musicians, made the concert. From and to Eva also invited the public to sing together with her, which in my ears was very successful.
After the concert the dance began, with polskor and occasionally some gammaldans. It was fun to dance some polskor again, it has been less of that for us this autumn.
---
<011230_alvik>Leif-Billyz at Örjansringen011230_alvik>
Dec 30, 2001
The Christmas and New Year`s eve this year was cold and with snow so deep that we probably have to go back to around 1980 to see something similar in the Stockholm area.
The snow was indeed welcome among us who love winter sports, but was on the other hand causing trouble for the traffic. Dancers seem however not to be afraid of snow and cold weather, the traditional dance at Örjansringen was visited by a numerous public.
If this was depending on a need to remove some excess weight from the Christmas is unclear, but everyone appeared to enjoy the dance. The glasses of the windows soon became vapour and looked like windows in an old fashioned fish shop. When a window was opened to let some fresh air in, it looked as a cloud of smoke entered the dancing floor.
This was a very nice dance evening, and the ultimate start of a new dancing year.
---