A weekend with a sign of dance, in the end of January 2006
Falun's spelmanslag at Skeppsholmsgården 2006-01-27
During the last years some of the dance events that we have liked best have come to an end. That applies for example to the Sunday dance events at Mälarsalen, and the dances at Hemmesta Bygdegård in the Friday evenings.

This has lead to that the most intense dance weekends have become infrequent.

But this weekend was an exception.

Falu Spelmanslag played at Skeppsholmsgården Friday night, on Saturday the orchestra Knapphändigt played at Aspnässkolan in Jakobsberg, and on Sunday Mälarsalen arranged another event with gammaldans and modern dance.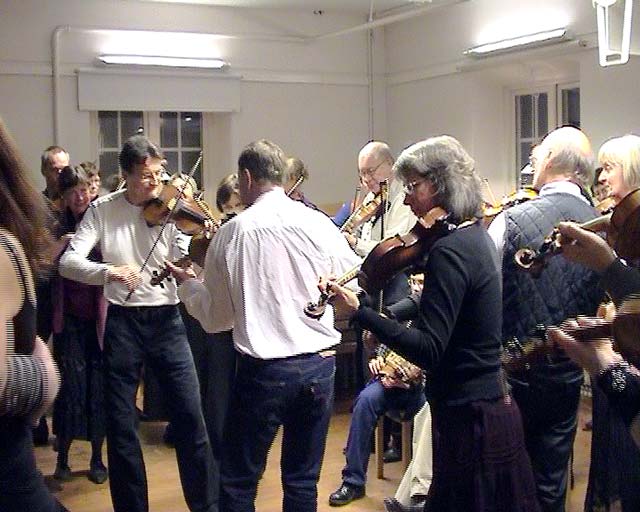 Folkmusikhuset opened on Friday evening with a concert and a dance at Skeppsholmsgården with Falu Spelmanslag.

The group started with asking the audience what type of dance music that was preferred. The answer was unmistakable - the audience wanted polskor.

And this wish was met. The event contained mainly polskor, however rarely interrupted by some gammaldans.

The polske dance mainly contained Bingsjöpolskor and other polskor from Dalarna.

The music was very pleasant, with a delightful pace and a rich sound. During the pause two members of the spelmanslag altered warbling. This feature also sounded good and was well suited for dance.

It was a nice dance event - we hope we get more opportunities to dance to Falu Spelmanslag.
The video as link: http://dansglad.se/videor/060127_skeppis.wmv
Knapphändigt at Aspnässkolan in Jakobsberg 2006-01-28
Jakobsbergs GDV arranged gammaldans at Aspnässkolan with the orchestra Knapphändigt Saturday evening.

Knapphändigt (which has a double meaning in Swedish - meagre and button handiness) is a playing group that was formed when the Wermdö Durspelare ceased. Knapphändigt has much of it's repertoire and members from that group. We are thus talking about melodeon music of excellent quality, which quickly raises a wish to dance.

GDV has as a very nice tradition, that is that all participants dance with each other. At this event this was made even easier as the orchestra after a few dances played a family waltz.

Another nice tradition at the GDV events is to have a joint coffee break, included in the ticket price, (sometimes with a lottery as well), where often the dance floor is laid.
The video as text link: http://dansglad.se/videor/060128_jakobsberg.wmv
Slagsta Gille and Masbandet at Mälarsalen 2006-01-29
Sunday afternoon we walked once more towards Mälarsalen, in order to dance old and modern dance. The sky was clear, it was just before 5 p.m., and the light from the day just passed could dimly be seen - a longed-for presage of the forthcoming spring.

It was a very nice feeling to dance gammaldans once again on the floor at Mälarsalen - we had missed the previous event in December because of a journey abroad.

Slagsta Gille's musicians played as always with a bold heart, very nice gammaldans music.

When Masbandet entered the stage, they alternated modern dance and gammaldans. They proved that they as well had a good grasp of gammaldans.

It was also nice to meet some old acquaintances from earlier dances at Mälarsalen.
The video as text link: .http://dansglad.se/videor/060129_malarsalen.wmv

Last Updated: 2007-11-03
[ Dances 2006 ]